Home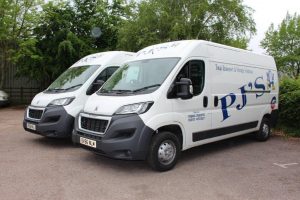 March 2017:
PJC Logistics were recently asked by Helitune if we could provide a dedicated vehicle and driver to transport 10 cartons of valuable aeronautic parts from their facility in Torrington to their base in Gilching Germany the goods could not be transshipped and had to be covered to the tune of £250,000. We happily arranged for our friendly driver Dave to collect the goods on a Friday afternoon and promised delivery by 09:00 Monday morning. Dave called me at 08:30 on the Monday to say mission complete all we needed then was a back load.
April 2017:
A busy week for our HGV drivers before Easter and straight after, Profile Interiors asked us to transport a bespoke office interior for them from North Devon to Marlow this involved 1 x 26 tonne, 2 x 18 tonne  and 2 sprinter vans over 2 days everything was delivered safe and on time with minimal fuss another great couple of days for PJC.
Our first full artic load for QVC was delivered in today our customer Floris who were extremely worried about the delivery due to the many restrictions placed on us by QVC. Having done our homework and spoken to QVC direct we established a good rapport with them and although the booking in time was moved forward as the driver was on route we still managed to deliver on time.
May 2017:
Lightwood Logistics came on board this month we done our first job for them from North Devon to South Wales same day delivery of a Limited Quantities consignment in a small van once again the driver was bang on time for collection and delivery.
An interesting request as we are nearing the end of another busy week a client in the next unit phones us from home HELP my house guest has just locked his car keys inside the car it is 17:30 can you collect his spare set for him and get them here tonight. Not a problem one quick call to our affiliate Couriers and he was on his way to Pulborough to collect said keys by 20:30 the day was saved and a very grateful house guest was happy once more.
June 2017: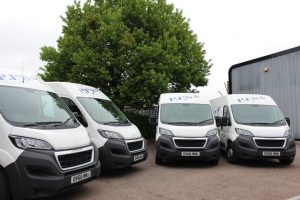 PJC Logistics are proud to announce that after extensive research we have finally taken delivery of a fleet of new Peugeot Boxers these range from the smaller Boxer for delivering parcels for APC up to the extra long wheel base for delivering kitchens on behalf of Howdens Joinery. We would like to think we do our bit for the environment in an industry that is often considered far from green, for obvious reasons, so when we started the process of renewing the fleet one thing high on the list was the MPG after lots of internet activity we opted for these we hope to see our fuel consumption come down by about 25% and will be monitoring it closely. The drivers have not been forgotten in all this as they all now have air conditioning for those hot summer days along with the latest built in sat nav, blue tooth, forward facing dash cams and reversing aids as well.
June 2017:
PJC Welcome Abax we have now fitted all our vehicles with up to date vehicle telematics supplied to us by Abax it is such a simple install and set up we did not even need an auto electrician to help. With a roaming sim card we should never lose signal and we can monitor driver behaviour and driving styles with up to date alerts for excessive speed or vehicles being used out of any set given time. We can pin point the nearest vehicle to an urgent job saving dead mileage, fuel and time thus improving the day to day service we can offer to every one of our customers.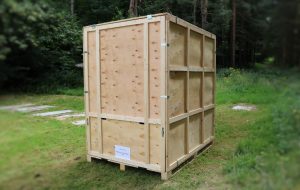 July 2017:
PJC Launch a new self-storage service for North Devon and the surrounding area details to follow.